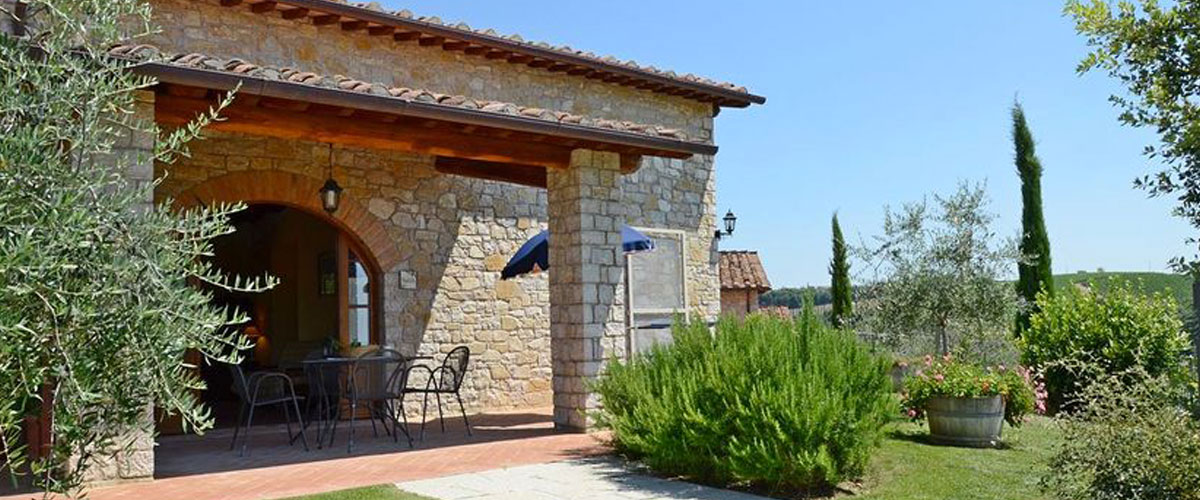 Villa Violetto - 2 + 2 persons
A warm and cosy 60mq flat, Villa Violetto is a lovely, two people place, outfitted with a double bed (shifted beds are available on request), open style kitchen, living room, bathroom, private open roomy veranda, private garden - where you can enjoy a nice barbeque - and a private garage.
It is also provided with air conditioning, Cable TV, DVD player, dishwasher, oven, espresso and American coffee machines.
Wi-Fi connection is available for tablets and pcs, both indoors and outdoors.
Pets are welcome.
Smoking is not allowed indoors.
Guests will enjoy homegrown vegetables, farmed by the house landlord.
Booking in advance you can request
Other possibilities
Tasting of wines and oils
Mountain bike rental
Massage on request
Indoor and outdoor fornitures
Cottage of 60 sq.m.
Wi-Fi
Conditioned air
TV/Cable TV
CD player
DVD player
Furnished terrace
Microwave oven
Kettle
Dishwasher
Hairdrye
Cradles (on request)
Iron and ironing boards
Coffee machines
Barbecue equipment)
Mosquito screens in every room
Pets allowed


Private garden
Shared swimming pool
Shared washing machine
Parking

M
T
W
T
F
S
S

1

2

3

4

5

6

7

8

9

10

11

12

13

14

15

16

17

18

19

20

21

22

23

24

25

26

27

28

29

30

31

M
T
W
T
F
S
S

1

2

3

4

5

6

7

8

9

10

11

12

13

14

15

16

17

18

19

20

21

22

23

24

25

26

27

28

29

30

31

M
T
W
T
F
S
S

1

2

3

4

5

6

7

8

9

10

11

12

13

14

15

16

17

18

19

20

21

22

23

24

25

26

27

28

29

M
T
W
T
F
S
S

1

2

3

4

5

6

7

8

9

10

11

12

13

14

15

16

17

18

19

20

21

22

23

24

25

26

27

28

29

30

31

M
T
W
T
F
S
S

1

2

3

4

5

6

7

8

9

10

11

12

13

14

15

16

17

18

19

20

21

22

23

24

25

26

27

28

29

30
Scroll